Event for international WUT Students / POLand WORK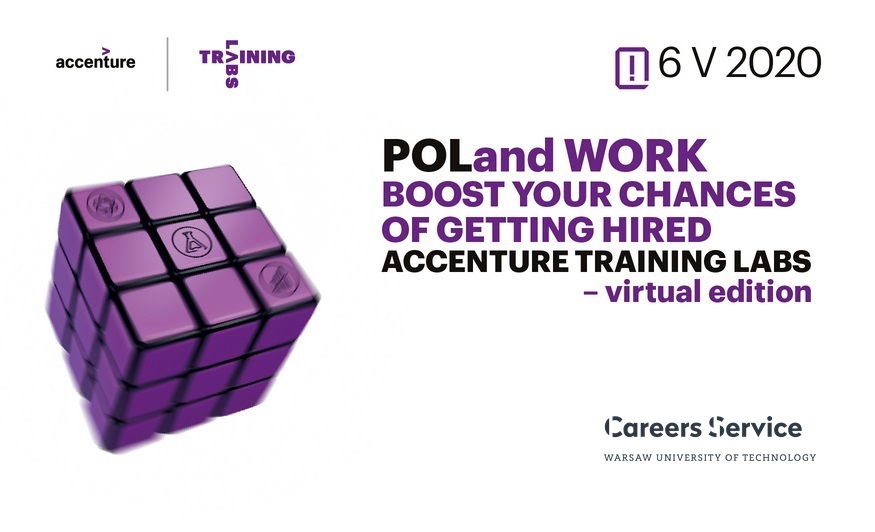 Accenture and WUT Careers Service invite international WUT students to an online event:
POLand WORK – boost your chances or getting hired
Are you planning or maybe you are already taking your first steps on the labour market? It is not easy for anyone. Preparation of a resume, stress during an interview, then waiting for a decision and many difficult choices.
Meet us on the 6th of May and gain knowledge about the Polish labour market. You will have an opportunity to talk with our experts about your career and self-development.
WEDNESDAY, 06.05.2020
14:15 - 15:50
ONLINE (the day before the event you will receive information and a link)
CONDUCTED IN ENGLISH
Registration for the event is possible after logging into the Career Center career platform.
Agenda:
14:15 - 14:25
MEET ACCENTURE
Get inspired by the stories of Accenture employees on your road to success.
14:25 - 15:00
RECRUITMENT PROCESS
To begin with, we will discuss the most important topics for foreigners like: structure of the resume, the stages of the recruitment process and the typical approach to candidates in Poland. We will also show you how to communicate with a potential employer and maintain good relations.
You will learn about:
What kind of candidates employers look for nowadays.
Communication with a potential employer.
How to write a resume. Useful hints – do's and don'ts.
15:00 - 15:20
MOBILITY
In the second part of the meeting, we will talk about a mobile game and topics such as the importance of paperwork, taxes, social security, pensions and other things that happen behind the scenes when navigating the polish labour market.
You will learn about:
What do we know about mobility in Accenture? (spoiler alert: A LOT)?
What are the rules of the mobility game and why paperwork matters?
Beyond immigration - taxes, social security, pension and other stuff going on behind the scenes when you move around.
15:20 - 15:50
Q&A
Too much or too little information? This is the time for your questions and to clear up any doubts.
Justyna Lech-Wojtasik
I have spent last 14 years helping Managers to deliver their projects with excellent people – analysts, programmers and architects. In Accenture, I am responsible for recruitment processes for Data Warehouse, Business Intelligence, Big data and Advanced Analytics area. Also, I am engaged in development programmes addressed to young employees. I started my career in a executive search agency, then worked both on the recruitment frontline and employer branding site. I believe one cannot get bored with this job, as long as they like listening to people and talk to them. I hope there are still many interesting stories ahead of me.
Małgorzata Socha
Małgorzata is one of the very few people who actually make use of their international relations degree in real life. She is a mobility and tax expert with 14 years of experience, including 13 in Accenture. Her role is to advise the business on the process and costs related to hiring foreigners in Poland. She is also responsible for seamless process of sending our employees abroad and inviting foreigners to Poland.
She is a practitioner and advocate for lifelong learning – both professionally and personally. Never deported from anywhere (so far), but once warned by the Border Guard.
Registration for the event is possible after logging into the Career Center platform.